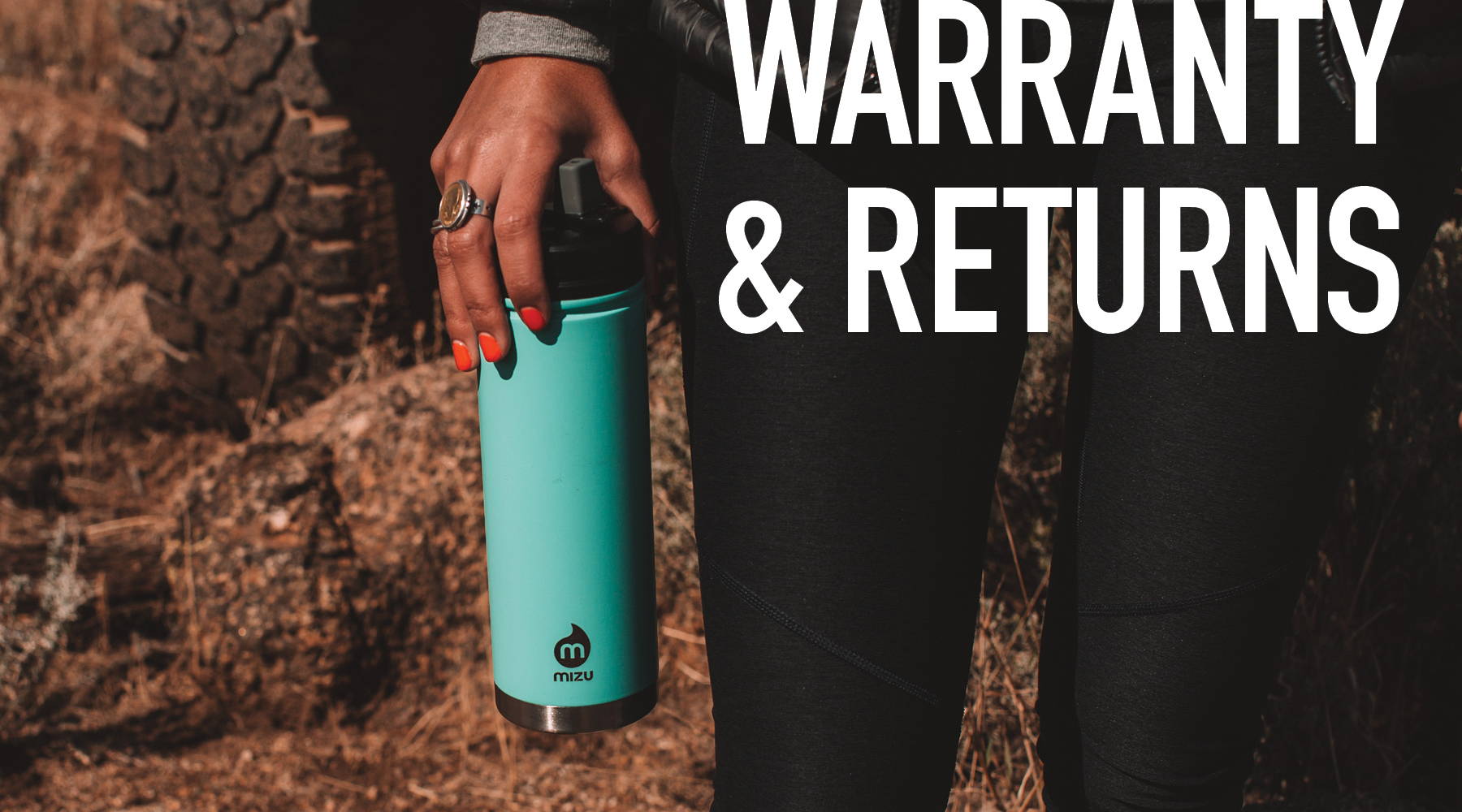 Thank you for purchasing a Mizu container: it's a great choice for your health and the environment. Mizu backs all of our stainless steel containers with a Lifetime Warranty against manufacturer's defects. Scratches and dents from dropping or normal use that do not affect the use or safety of the bottle do not qualify for this warranty. Please note that the paint and graphics on your stainless steel container can be chipped and scratched from normal abrasion, impacts, or repeated runs through the dishwasher, and this is not a defect. Putting your Mizu in the dishwasher will void the Lifetime Warranty. Our one-year warranty for the paint and graphics covers only peeling and flaking due to manufacturer's defects. The Mizu glass products do not come with a Lifetime Warranty and instead have a one-year warranty against manufacturer's defects. Mizu uses borosilicate glass, which is more durable than regular glass, and all our glass products are dishwasher and microwave safe. But remember, it is still glass and will break if dropped or mishandled. Breakage from dropping or mishandling Mizu's glass products will not be covered under warranty. We are proud of our product quality and stand behind what we make, but we will not replace products that show signs of excessive abuse or misuse. See "WARNINGS" below for more information on uses that will void the warranty.
INSTRUCTIONS FOR USE:
For best results, FILL with preferred beverage, go have FUN, DRINK & REPEAT until fully stoked (or tired.) Please note whether your container is qualified for hot and cold liquids, or just cold liquids. In general, all single walled stainless steel products ARE NOT TO BE USED WITH HOT LIQUIDS. Using these products with hot liquids can cause burns. Mizu's double wall and/or vacuum sealed products are OK for use with hot liquids. Mizu glass is also OK for use with hot liquids, but only with the provided silicone sleeve. Note that the silicone sleeve only provides minimal temperature protection and the Mizu glass, even with the sleeve on, should not be touched for several minutes if boiling water has been poured inside. Please let the glass and silicone cool and carefully test it before picking up and drinking.
CARE INSTRUCTIONS: 
Mizu recommends washing all containers with warm soapy water and a bottle brush for best results. Please be aware some very hot and high water pressure dishwashers can eventually break down and remove the paint/graphics from bottles, so if you want to extend the life of the paint/graphic, please wash by hand.
WARNINGS:
• Do not freeze your Mizu containers
• Use caution when filling with hot liquids
• Do not put your Mizu stainless steel containers in the microwave
• Warranty does not cover normal wear and tear or breakage from abuse or misuse
• Warranty applies to products purchased from authorized Mizu dealers or our web store 
If you are a California resident, you waive your rights with respect to California Civil Code Section 1542, which provides "A general release does not extend to claims which the creditor does not know or suspect to exist in his favor at the time of executing the release, which if known by him must have materially affected his settlement with the debtor," as well as under any statute or common law principle of similar effect which restricts the release of claims which the releasing party does not know or suspect at the time of the release, which if known would have materially affected the decision to agree to release.
RETURNS & EXCHANGE POLICY – FOR GOODS PURCHASED AT MIZULIFE.COM
If you purchased or received a product directly from mizulife.com and would like to return or exchange it within 30 days, we can issue you a refund or web-store credit for exchange. Returned goods must be in perfect, unused condition and must be made within 30 days of purchase. After 30 days, we will not accept returns for any reason other than manufacturer defect.
If you received the wrong product in your shipment or are missing something from your order, please contact us directly at sales@mizulife.com. To expedite a resolution, please indicate your web order number (it's the ten digit number on your invoice) as well as the item that was shipped in error or was missing from your order. We will process a replacement shipment and provide return instructions if applicable as soon as possible.
RETURNS & EXCHANGE PROCEDURE – FOR GOODS PURCHASED AT MIZULIFE.COM
To process a return or exchange, please email us at sales@mizulife.com. Returns take approximately 7-10 business days to process and require a Return Authorization Form (if applicable.) Return Authorization Forms are issued by email after we receive a request for exchange/return. Mizu will cover return shipping costs only if the product is being returned for warranty.
All warranty claims must be submitted to sales@mizulife.com and include a photo of the manufacturer's defect, a description of the problem in detail, and the original retail receipt. The Lifetime Warranty is valid only to the original purchaser.
If you purchased your product from a retail store or a website other than mizulife.com, please go directly to the original place of purchase to process your return. If you purchased your product from mizulife.com and have a warranty claim, follow the steps above and submit the claim directly to Mizu.